Hydrogen Horizons: Empowering the Path to Net Zero Through Insights and Investment
Exploring Hydrogen's Momentum, Investment Challenges, and Global Deployment Acceleration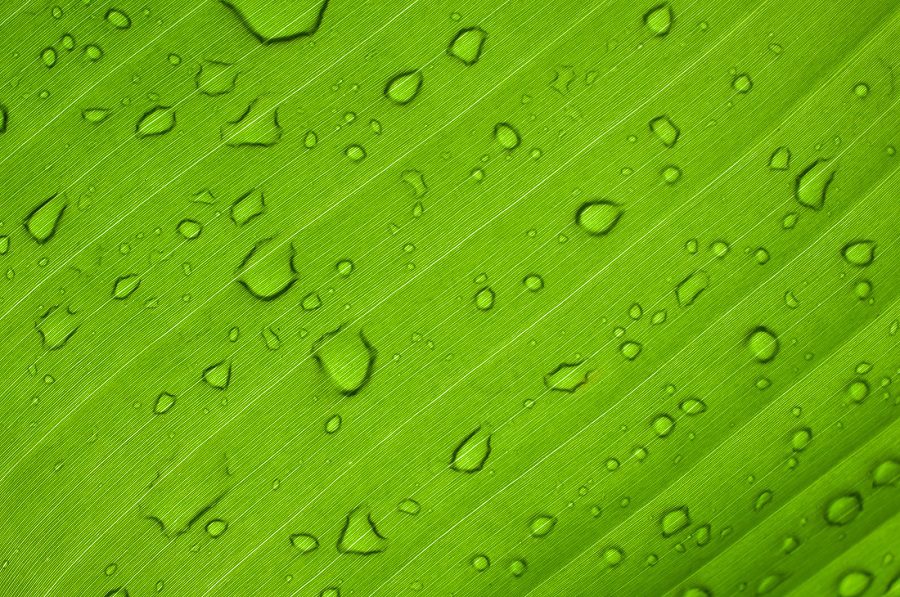 As a significant hydrogen player, ENGIE provides you with a summary of the 'Hydrogen Insights 2023' report, published in May by the Hydrogen Council in collaboration with McKinsey.
Hydrogen's Accelerating Momentum Faces Investment Decision Delays
On a global scale, the hydrogen sector has revealed a total of 1,046 large-scale projects as of the conclusion of January 2023. This showcases a substantial 62% surge compared to the previous release (648 projects in May 2022).


Out of the overall count, a significant 76% (795 projects) have aspirations to be entirely or partially operational by 2030. These represent USD 320bn of direct investments of USD 320 billion into hydrogen value chains, marking an increase of USD 80 billion in comparison to the previous year (+33%).


While momentum remains robust and the industry's focus is set on investments in clean hydrogen, there's a realization that much more must be accomplished. To stay aligned with the path towards achieving net zero by 2050, a doubling of announced investments is imperative by 2030.
Hydrogen Concil; Hydrogen Insights 2023, https://hydrogencouncil.com/wp-content/uploads/2023/05/Hydrogen-Insights-2023.pdf
Europe, North America, and the Far East have the largest number of projects with committed capital
From a geographical standpoint, Europe sustains its position as the worldwide leader in hydrogen project propositions, constituting 35% of global investments (equivalent to USD 117 billion) and achieving the highest absolute growth of USD 40 billion. Following Europe, North America and Latin America make up around 15% each of the announced investments. However, when it comes to committed investments, North America takes the lead with USD 10 billion, trailed by Europe with USD 7 billion. The Middle East and China also contribute USD 5 billion each.


Analyzing the project pipeline from a regional perspective unveils that areas characterized by substantial energy demand and an early focus on hydrogen as a decarbonization agent have progressed more projects to the Final Investment Decision (FID) stage. This is evident in regions like Europe, China, and North America. In contrast, regions anticipated to export clean hydrogen and its derivatives while having limited local demand typically feature larger projects in earlier stages of development, such as feasibility or Front-End Engineering Design (FEED) studies. This trend is notable in regions like Latin America, Australia, the Middle East, and Africa.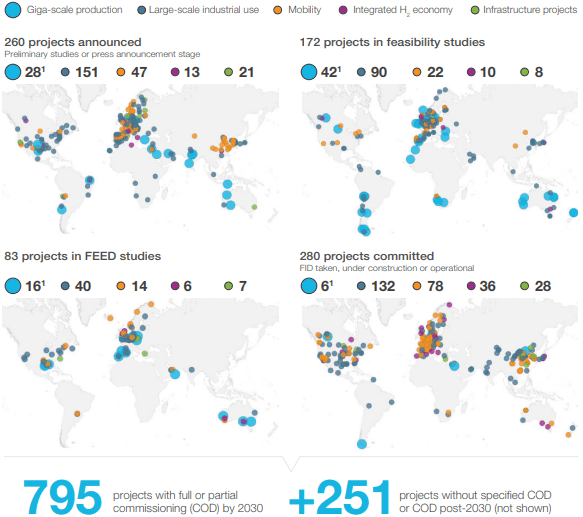 Hydrogen Concil; Hydrogen Insights 2023, https://hydrogencouncil.com/wp-content/uploads/2023/05/Hydrogen-Insights-2023.pdf
Closing the Hydrogen Investment Gap: Requiring further investments along the value Chain to bridge a USD 380 Billion shortfall by 2030
Despite a positive trend, less than 10% of the globally announced investments projected until 2030 are actual committed funds. To align with a net-zero trajectory by 2030, it's estimated that committed capital must experience an increase exceeding twentyfold.


All stages of project maturity have observed growth between 30% to 40%. However, this growth remains notably skewed towards early-stage projects, as nearly half of the projects are announced but have not yet entered the planning stage or reached the Final Investment Decision (FID) phase.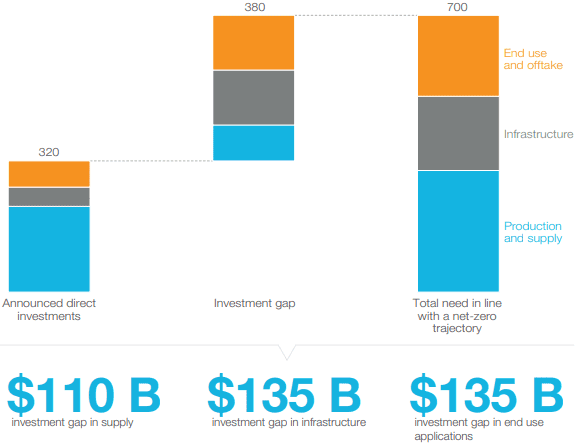 Hydrogen Concil; Hydrogen Insights 2023, https://hydrogencouncil.com/wp-content/uploads/2023/05/Hydrogen-Insights-2023.pdf
Announced production volumes increased by more than 40%
Announced production volumes have surged by a remarkable 46%, reaching 38 million metric tons per annum (Mt p.a.). This amount comprises approximately half of the required volume for 2030 to stay on course toward achieving a net-zero outcome. Of these volumes, renewable hydrogen accounts for more than two-thirds, approximately 25 Mt p.a., while the remaining share constitutes low-carbon hydrogen, around 12 Mt p.a.


The 38 Mt p.a. targeted for 2030 represents approximately half of the necessary volume to align with a net-zero trajectory (anticipated to be 75 Mt p.a. by 2030). Bridging this gap presents challenges, as renewable hydrogen projects encounter obstacles such as sluggish permitting processes, limitations in the supply of electrolyzers, solar panels, wind turbines, and constraints in engineering, procurement, and construction (EPC) capacity.


Similarly, low-carbon hydrogen initiatives confront their own set of difficulties. The establishment of large-scale infrastructure for carbon capture, transportation, and storage necessitates intricate and often lengthy permitting procedures, substantial financial resources, and a considerable workforce.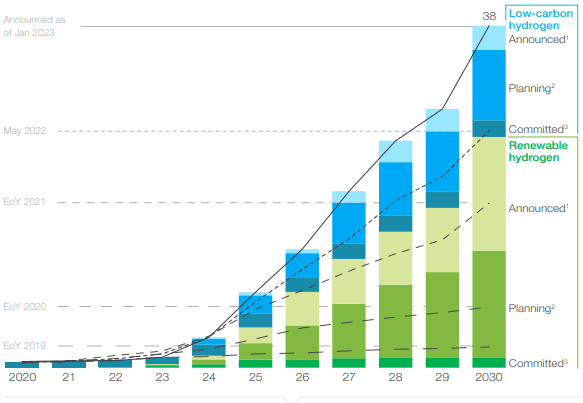 Hydrogen Concil; Hydrogen Insights 2023, https://hydrogencouncil.com/wp-content/uploads/2023/05/Hydrogen-Insights-2023.pdf
170 MW electrolysis was deployed in 2022, bringing the total to 700 MW
The deployment of electrolysis capacity grew 30% by end 2022 versus 2021, reaching a total of 700 megawatts (MW). This installed capacity translates to approximately 90 kilotons per annum (kt p.a.) of renewable hydrogen supply, accounting for approximately 10% of the global installed capacity for clean hydrogen production.


Nonetheless, the trajectory necessitates an extensive increase, with more than 200 gigawatts (GW) of electrolysis capacity required by 2030 to align with the net-zero goal for 2050 – an expansion exceeding 200 times the current installed capacity.


Presently, China holds the lead in deployed capacity, boasting around 300 MW, trailed by Europe with an approximate capacity of 180 MW.


The distribution of electrolyzer technologies, including alkaline, PEM, and others, has maintained a relatively stable balance. Alkaline electrolyzer technology constitutes roughly 60% of the distribution, with PEM following at approximately 30%.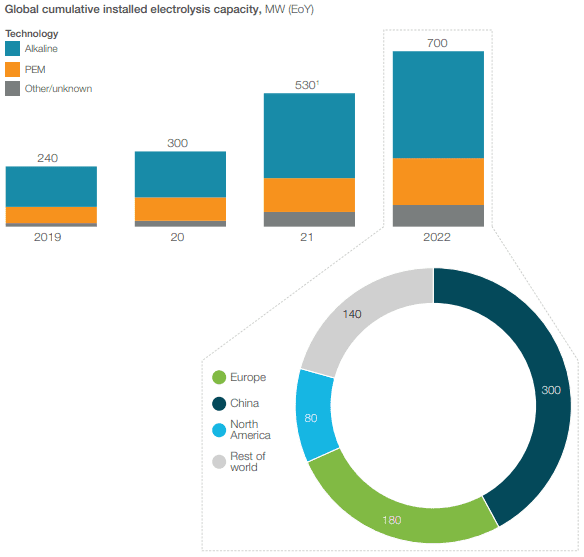 Hydrogen Concil; Hydrogen Insights 2023, https://hydrogencouncil.com/wp-content/uploads/2023/05/Hydrogen-Insights-2023.pdf
Hydrogen refueling infrastructure deployment is accelerating, particularly in Asian markets
More than 1,070 hydrogen refueling stations are now operating globally, with a deployment growth of more than 50% between 2021-2022.


Dominantly situated in Asia, a majority of these refueling stations find their home in key markets such as China, South Korea, and Japan, amassing to a total of more than 650 stations. Europe follows closely with around 280 stations, while North America accounts for approximately 120 stations.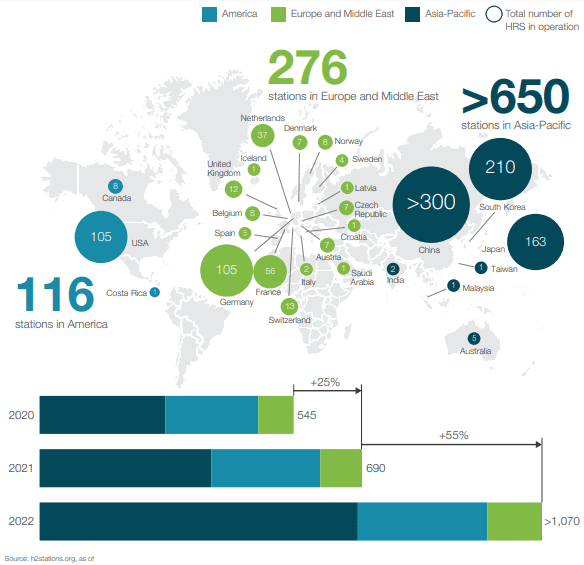 Hydrogen Concil; Hydrogen Insights 2023, https://hydrogencouncil.com/wp-content/uploads/2023/05/Hydrogen-Insights-2023.pdf