ENGIE analysts and clients discuss energy prices over breakfast
The Commodities Breakfast, held at the Pavillon Vendome in Paris on November 27, offered ENGIE's clients an exclusive opportunity to interact with our economic experts and learn more about macroeconomic trends and the shifting dynamics of energy markets.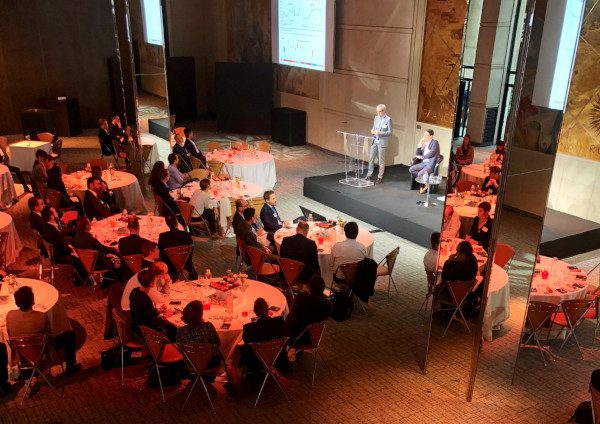 The theme of the event was "Economic slowdown, carbon price uncertainty… what are the prospects for energy prices in 2019?"
Eighty ENGIE clients were invited to the breakfast to attend a presentation on the latest macroeconomic and energy news. They also had the opportunity to directly interact with our experts after the breakfast.
Macro trends
The event comes at a time when the global economy is bracing for a slowdown, after nearly a decade of expansion following the Great Recession. Rising inflationary pressures could result in an increased tightening of monetary policy and further accentuate the cyclical downturn.
European gas prices, on the other hand, increased significantly in 2018, in line with rising oil, coal and CO2 prices. Europe is set to become more and more vulnerable to shocks on the LNG market and fluctuations in Asian demand as domestic production drops. The growth of LNG export capacity will also start to have an effect on prices from 2019 onwards.
Surging carbon prices
Meanwhile, a return of speculators led to a fourfold increase in carbon prices in just one year—reaching levels not seen since 2008. Even if there is a reduction in carbon credits next year, the question on everybody's mind is whether the current price is justified.
The Commodities Breakfast did provide our clients with an insight into the factors that might affect the prices.