GEM Connect 2021: a sustainable event
In line with the ENGIE's ambition to accelerate towards Net Zero Carbon by 2045, ENGIE's Business Unit "Global Energy Management" organized a sustainable digital event called GEM Connect from June 21 to 25.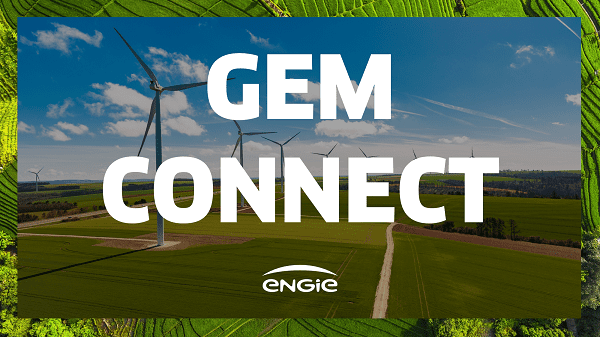 This internal event was dedicated to sustainability, business and how we pave the way to Net Zero Carbon economy. It aimed at setting all employees in motion, developing their knowledge and co-working around these topics.
GEM Connect was also the opportunity for the employees to meet current and future challenges, to connect with colleagues around the world and learn together the richness of this GEM Connect.
From June 21 to 25, 330+ participants joined this 100% digital experience with a diverse program, including conferences, workshops, roundtables and teambuilding on:
Carbon accounting
Decarbonization of clients
Sustainability
This event has also provided an opportunity for privileged exchanges with the experts as well as ENGIE Global Energy Management ExCom members.
Thank you to all the passionate and inspiring speakers from ENGIE Global Energy Management, ENGIE, associations as HOP (Halte à l'Obsolescence Programmée) and Time for the Planet, and partners such as Sanofi and Decathlon.
Through this event, ENGIE Global Energy Management is contributing to build today with all our stakeholders the low carbon energy systems of tomorrow. 
MEDIA: