Gas4Sea partners and Equinor signed an LNG bunkering agreement
ENGIE España and ADISSEO Group strengthen their commitment to sustainable energy and sign one of the first 10-year green Power Purchase Agreements (PPA) between a producer and a final consumer in Spain.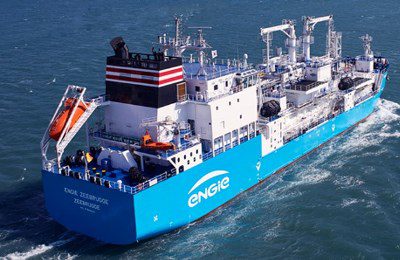 Marine LNG Zeebrugge, a joint venture of the Gas4Sea partners – ENGIE, Mitsubishi Corporation and NYK – has signed an agreement with the Norwegian multinational energy group Equinor for supplying their four crude shuttle tankers with LNG as marine fuel in particular in the port of Rotterdam.
The four planned dual fuel vessels are to come into service in early 2020; they will be operated by Equinor in Northern European seas.
Marine LNG Zeebrugge will supply LNG using the LNG bunkering vessel ENGIE Zeebrugge which started operations in 2017. She is currently performing ship-to-ship LNG bunkering services in the port of Zeebrugge, in Belgium.
ENGIE Zeebrugge holds an LNG capacity of 5,000 m3 and is designed to serve a full range of shipping customers.
Gas4Sea is a commercial brand jointly launched by ENGIE, Mitsubishi Corporation and NYK in 2016 to develop the use of LNG as a sustainable, reliable, safe and cost-effective alternative to conventional oil-based marine fuels. Its purpose and ambition is to accompany the shipping sector in the upcoming transition towards a greener maritime environment, in Europe and worldwide.